The Management
Rhett M. Myers
PGA Golf Professional
President, RMR Golf, Inc.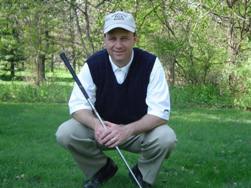 Rhett M. Myers has been a PGA Golf Professional for 25 years in Dutchess County. After being employed for 14 years as the PGA Director of Golf at Casperkill Country Club, a Robert Trent Jones, Sr. course in Poughkeepsie, NY, Rhett accepted the opportunity to lease and operate the golf course at Vassar College at the start of the 2005 golf season. Rhett manages the course under his business name RMR, Golf, Inc. The business name was derived from Rhett's family (Rhett, his 14 year old daughter Madison, and his wife, Robin.)
Rhett has 28 years teaching experience with golfers of all levels; adults and juniors. He has instructed many State, County, and Club Champions. He approaches each lesson by assessing each individual's strengths and weaknesses while stressing the 5 basic fundamentals of golf.
Rhett offers private and group lessons, Adult and Junior clinics as well as a summer Junior Golf Academy.
Rhett is an adjunct professor at Vassar College. He was also the Head Coach of the Vassar College Women's Golf Team from 2004-2012.
Rhett has been voted "Best Golf Professional" by the readers of Hudson Valley Magazine for 10 consecutive years 2006-2015.
*Best of Hudson Valley® and Hudson Valley Magazine® are registered trademarks.